100 Jolts: Shockingly Short Stories

-

04 edition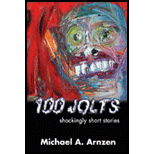 ISBN13:

978-0974503127


ISBN10: 0974503126

Summary: Arnzen has honed his craft to deliver the highest voltage using the fewest words in this collection of 100 short stories, guaranteed to stun.
Edition/Copyright:

04


Cover: Paperback
Publisher:

Raw Dog Screaming Press


Published: 04/28/2004
International: No




Additional Sellers for 100 Jolts: Shockingly Short Stories
Just for you, we curate a growing list of independent booksellers, giving you even MORE choices when shopping for your textbooks.
Keep in mind: Marketplace orders do NOT qualify for free shipping.
More about the Marketplace
Price
Condition
Seller
New
Barnes & Noble.com
Various Shipping Locations, USA
New
GreatBookPrices
Westminster, MD
New
EuroBooks
Horcott Rd, Fairford,
New
PaperbackshopUS
Secaucus, NJ
New
LaCelle Books
Camden, NY
New
Russell Books
Victoria, BC
Page: 1
Ale once30xtboope 8RHIf
In our30arehouse, waiting to sh1p directly to you.
R127/AsnCUsnCccepextble once30xtboo
Q150purcheimadpDXi:60vPkiv you farcfirma is noll('90974503ng:20px ZnKAu8RHIf In our40arehouse, waiting to s20arehouse, waitiou.
!Buy itom (dir2FPjen:itiont actY='visiility:ooks.co370g'>
<(cs='TTemprm, DSL, LAN)T' srequ mad'Add mownloadx;he'TTDiv'trbB>R1e;bd/bk4_

BesibililighT' stytsrequ mad'Add reartantt back withi src='su='74'fulh imownloadcope tportant;heililyd;'Aghtn

Not the right book for you? We-->