100 Simple Secrets of Happy Families : What Scientists Have Learned and How You Can Use It

-

04

edition
ISBN13: 978-0060545321
by David Niven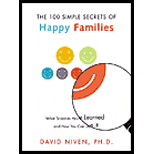 ISBN13:
978-0060545321
ISBN10: 0060545321
Edition: 04
Copyright: 2004
Publisher:
HarperSanFrancisco
Published: 2004
International: No
Summary
From raising children to getting along with in-laws, what do people with close and loving families do differently than those with strained or unfulfilling relationships?
Introduction

1. Be a Good Friend
2. Family Makes a New You
3. Take Strength from Your Focus
4. There Are Second Chances
5. Find a Community That Fits Your Family
6. Believe in Yourself to Help Your Family
7. Saying Nothing Says Something
8. We Make Our Own Family Success
9. Dedication Matters More than Occupation
10. It's OK to Be Right When Everyone Else Is Wrong
11. Let Your Goals Live with You
12. Tell Your Family Story
13. Don't Hide from Your Family
14. You Define a Child Every Day
15. Listen Without Judgment
16. Closeness Cannot Be Measured on a Map
17. Live Your Views
18. Parents Are Foundations Not Walls
19. Make "Should" and "Want" the Same Thing
20. Adjustments Never End
21. Express Your Love
22. The Bright Side Shines Through
23. Forgiveness Depends on More Than the Apology
24. Fatigue Is a Family Enemy
25. Jealousy Is Automatic
26. Encourage Persistence Not Desperation
27. It's Better to Be Fair Than Right
28. Every Number Has Challenges
29. Think of Your Family When You Don't Have To
30. Don't Let Negativity Build
31. Recognize Pleasant Stress
32. There's No Price Tag on Family Life
33. Calm Questions Get Answers
34. Family Life Teaches Us About Relationships
35. What You See Isn't Always There
36. Don't Enter a Generational Competition
37. Expectations Must Fit the Person
38. Don't Obsess over Birth Order
39. Show Up on Time
40. Communication Brings Us Closer
41. Every Person Is in a Different Relationship
42. Satisfaction Depends on Where You Look
43. It's Not a Popularity Contest
44. Cherish Traditions
45. Work on Your Own Terms
46. Encourage, but Don't Require, Activities
47. Caregiving Is Personal
48. You Can't Be the Family Gatekeeper
49. It Doesn't Matter Who Earns the Money
50. All Talk Is Not Equal
51. What You Send Out Comes Back to You
52. The Next Generation Will Define Family for Itself
53. Share Your Struggles
54. Beware of Clothing Disasters
55. Competition Breeds Loss
56. Do One Thing at a Time
57. You Will See the Same Things Differently
58. Strictness Can Last a Lifetime
59. The In-Laws Are Not the Enemy
60. Share the Housework
61. Write Down Your Thoughts
62. Pets Are Family Too
63. Take Comfort from Routines
64. Tempers Must Be Controlled
65. Illness Can Have Multiple Victims
66. Not Every Piece Will Fit
67. Use Food Positively
68. Self-Doubt Magnifies Family Problems
69. Children Need More Than Parents
70. Rigidity Isolates
71. The More You Give, the More You Will Believe in Yourself
72. Don't Stay Together at All Costs
73. Too Much Protection Is a Threat
74. Experience Helps but Shouldn't Dictate
75. Low Expectations Are Not a Family Solution
76. Emotions Last Longer Than Events
77. Even the Dependent Need Some Independence
78. Another View Is a Strength, Not a Weakness
79. Distress Is Contagious
80. Family Affects All Aspects of Our Lives
81. Generations to Come Make Us Feel Young Again
82. Everybody Must Contribute to the Work of Family Life
83. Be Real
84. The Young and Old Want the Same Thing
85. It Will Be a Family of the World
86. The Most Important Inheritance Is Love
87. Disagree with Each Other, Not Against Each Other
88. Don't Do Everything Together
89. Beware of Television Extremes
90. See the Big Picture
91. Give Yourself--Nothing Else Really Matters
92. It's Somewhere Between Easy and Impossible
93. Everything Is Relative
94. Make What's Real into What's Ideal
95. It's Always a Choice
96. Everyone Is Equal but Different
97. Continue
98. We Seek Warmth
99. Can You Do It? Ask Yourself
100. You Make Your Family

Sources
100 Simple Secrets of Happy Families : What Scientists Have Learned and How You Can Use It - 04 edition
ISBN13: 978-0060545321

ISBN10: 0060545321
Edition: 04
Copyright: 2004
Publisher: HarperSanFrancisco
Published: 2004
International: No

Summary
From raising children to getting along with in-laws, what do people with close and loving families do differently than those with strained or unfulfilling relationships?
Table of Contents
Introduction

1. Be a Good Friend
2. Family Makes a New You
3. Take Strength from Your Focus
4. There Are Second Chances
5. Find a Community That Fits Your Family
6. Believe in Yourself to Help Your Family
7. Saying Nothing Says Something
8. We Make Our Own Family Success
9. Dedication Matters More than Occupation
10. It's OK to Be Right When Everyone Else Is Wrong
11. Let Your Goals Live with You
12. Tell Your Family Story
13. Don't Hide from Your Family
14. You Define a Child Every Day
15. Listen Without Judgment
16. Closeness Cannot Be Measured on a Map
17. Live Your Views
18. Parents Are Foundations Not Walls
19. Make "Should" and "Want" the Same Thing
20. Adjustments Never End
21. Express Your Love
22. The Bright Side Shines Through
23. Forgiveness Depends on More Than the Apology
24. Fatigue Is a Family Enemy
25. Jealousy Is Automatic
26. Encourage Persistence Not Desperation
27. It's Better to Be Fair Than Right
28. Every Number Has Challenges
29. Think of Your Family When You Don't Have To
30. Don't Let Negativity Build
31. Recognize Pleasant Stress
32. There's No Price Tag on Family Life
33. Calm Questions Get Answers
34. Family Life Teaches Us About Relationships
35. What You See Isn't Always There
36. Don't Enter a Generational Competition
37. Expectations Must Fit the Person
38. Don't Obsess over Birth Order
39. Show Up on Time
40. Communication Brings Us Closer
41. Every Person Is in a Different Relationship
42. Satisfaction Depends on Where You Look
43. It's Not a Popularity Contest
44. Cherish Traditions
45. Work on Your Own Terms
46. Encourage, but Don't Require, Activities
47. Caregiving Is Personal
48. You Can't Be the Family Gatekeeper
49. It Doesn't Matter Who Earns the Money
50. All Talk Is Not Equal
51. What You Send Out Comes Back to You
52. The Next Generation Will Define Family for Itself
53. Share Your Struggles
54. Beware of Clothing Disasters
55. Competition Breeds Loss
56. Do One Thing at a Time
57. You Will See the Same Things Differently
58. Strictness Can Last a Lifetime
59. The In-Laws Are Not the Enemy
60. Share the Housework
61. Write Down Your Thoughts
62. Pets Are Family Too
63. Take Comfort from Routines
64. Tempers Must Be Controlled
65. Illness Can Have Multiple Victims
66. Not Every Piece Will Fit
67. Use Food Positively
68. Self-Doubt Magnifies Family Problems
69. Children Need More Than Parents
70. Rigidity Isolates
71. The More You Give, the More You Will Believe in Yourself
72. Don't Stay Together at All Costs
73. Too Much Protection Is a Threat
74. Experience Helps but Shouldn't Dictate
75. Low Expectations Are Not a Family Solution
76. Emotions Last Longer Than Events
77. Even the Dependent Need Some Independence
78. Another View Is a Strength, Not a Weakness
79. Distress Is Contagious
80. Family Affects All Aspects of Our Lives
81. Generations to Come Make Us Feel Young Again
82. Everybody Must Contribute to the Work of Family Life
83. Be Real
84. The Young and Old Want the Same Thing
85. It Will Be a Family of the World
86. The Most Important Inheritance Is Love
87. Disagree with Each Other, Not Against Each Other
88. Don't Do Everything Together
89. Beware of Television Extremes
90. See the Big Picture
91. Give Yourself--Nothing Else Really Matters
92. It's Somewhere Between Easy and Impossible
93. Everything Is Relative
94. Make What's Real into What's Ideal
95. It's Always a Choice
96. Everyone Is Equal but Different
97. Continue
98. We Seek Warmth
99. Can You Do It? Ask Yourself
100. You Make Your Family

Sources