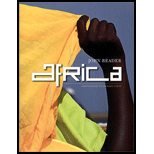 ISBN13:
978-0792276814
ISBN10: 0792276817 Edition: 01
Copyright: 2001
Publisher:
National Geographic Society
Published: 2001
International: No
Summary
Reader and Lewis render a remarkable portrait of the continent, capturing the complex, diverse life story of Africa's many peoples, myriad landscapes, and teeming wildlife. To be released in conjunction with PBS and National Geographic's eight-hour TV series in September 2001. 175 photos.
Africa - 01 edition
ISBN13: 978-0792276814

ISBN10: 0792276817 Edition: 01
Copyright: 2001
Publisher: National Geographic Society
Published: 2001
International: No