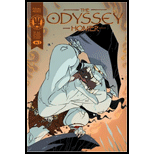 ISBN13:
978-1402731556
ISBN10: 1402731558
Edition: 10
Copyright: 2010
Publisher:
Sterling Publishing Co., Inc.
Published: 2010
International: No
Summary
Welcome the next entry in the fabulously received and brilliantly created ALL-ACTION CLASSICS series. The brainchild of former Marvel Comics artist Ben Caldwell, these graphic novels are the freshest, coolest approach to the classics ever. Each one takes a famous work of fiction and translates it into a kid-friendly comic book narrative-with full-color illustrations and a fast-paced tone that will have even reluctant readers flying through.
Shipwrecks, angry gods, magical lands, beautiful nymphs, and siren songs: this vivid retelling of Homer's legendary Greek epic follows Odysseus on his long, arduous journey home from Ithaca after the fall of Troy. Done in comic-book style, it features the highest-energy kid-grabbing details and plot twists, all dramatized in brilliant, action-packed images. It's the perfect way to introduce kids and fans of graphic novels to one of literature's great works.
All-Action Classics No. 3 : The Odyssey - 10 edition
ISBN13: 978-1402731556

ISBN10: 1402731558
Edition: 10
Copyright: 2010
Publisher: Sterling Publishing Co., Inc.
Published: 2010
International: No