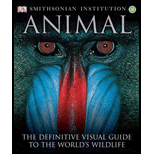 ISBN13:
978-0756616342
ISBN10: 0756616344 Edition: 01
Copyright: 2001
Publisher:
Dorling Kindersley Publishing Inc.
Published: 2001
International: No
Summary
This authoritative volume starts with a clear introduction to the animal world, followed by a superbly illustrated survey of world habitats. The main part of the book, a comprehensive catalog, profiles more than 2,000 individual species. Photographs.
Animal - 01 edition
ISBN13: 978-0756616342

ISBN10: 0756616344 Edition: 01
Copyright: 2001
Publisher: Dorling Kindersley Publishing Inc.
Published: 2001
International: No