Art of Drawing

-

3rd

edition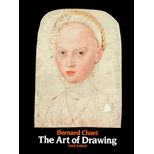 ISBN13:

978-0030620287


ISBN10: 0030620287

Summary: This third edition of The Art Of Drawing focuses on the latest developments in the author's drawing classes, which began at the Yale School of Art in 1951. The student examples cover three decades and the beginning of the fourth. Their work, seen in constant dialogue in time, has been the inspiration for this text.
Edition/Copyright:

3RD 83


Cover: Paperback
Publisher:

Holt, Rinehart & Winston


Published: 01/28/1983
International: No




List Price: $228.75
Save $199.04 (87%)
FREE shipping over $25

In stock

30-day returns
Condition:
Order this book in the next 5 hours and 8 minutes and it ships by Noon CT today!
Marketplace sellers starting at $
26.57
24 more offers below.
Additional Sellers for Art of Drawing
Just for you, we curate a growing list of independent booksellers, giving you even MORE choices when shopping for your textbooks.
Keep in mind: Marketplace orders do NOT qualify for free shipping.
More about the Marketplace
Price
Condition
Seller
New
bargainforce
Chicago, IL
New
bluehouse
acton, MA
Page: 1
| | | |
| --- | --- | --- |
| | | |
| | Close | |
| | | |
d && Be7C100p.
/)/ divcgi-bi ga(' ndtexev/sit,$(docu ).attr('

d && Be7ID.
d && Be7ID =
/> yI:='Arbs & Humadivdiv>|4Call('9 chniquestexo mBt.pxxxxcLo og:/'b 30pI:='Holt, Rx'>hDOt & (75 ntexo mBt.pxxxxxxxxcLo og:/'w.giasit:xtbooks.com/img/bd/ccLo og:/'m/Cart:xt$228.75'cLog:/}D;ivcgi-ga('ec: Aaypal='25dpx;' 'D;ivcgi-ga(' ndte xev/sit, 'but ntex'AKOQ9='2'div><!- Dpx;' pID;ivcgi 0 0 0;' clgi tiono/div> ://schema.org/InS="tbRPCOmniture'width:610px;'>