Blood Diamonds

-

rev

edition
ISBN13: 978-0465029914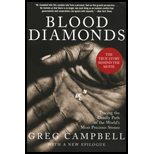 ISBN13:
978-0465029914
ISBN10: 0465029914
Cover type: Paperback
Edition: REV 12
Copyright: 2012
Publisher:
Westview Press, Inc.
Published: 2012
International: No
List price: $16.99
Summary
First discovered in 1930, the diamonds of Sierra Leone have funded one of the most savage rebel campaigns in modern history. These ''blood diamonds'' are smuggled out of West Africa and sold to legitimate diamond merchants in London, Antwerp, and New York, often with the complicity of the international diamond industry. Eventually, these very diamonds find their way into the rings and necklaces of brides and spouses the world over.Blood Diamondsis the gripping tale of how the diamond smuggling works, how the rebel war has effectively destroyed Sierra Leone and its people, and how the policies of the diamond industry - institutionalized in the 1880s by the De Beers cartel - have allowed it to happen. Award-winning journalist Greg Campbell traces the deadly trail of these diamonds, many of which are brought to the world market by fanatical enemies. These repercussions of diamond smuggling are felt far beyond the borders of the poor and war-ridden country of Sierra Leone, and the consequences of overlooking this African tragedy are both shockingly deadly and unquestionably global. Updated with a new epilogue.
Other Editions for Blood Diamonds
Blood Diamonds - REV 12 edition
ISBN13: 978-0465029914

ISBN10: 0465029914

Cover type: Paperback
Edition: REV 12
Copyright: 2012
Publisher: Westview Press, Inc.
Published: 2012
International: No