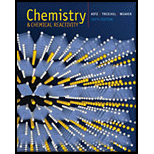 ISBN13:
-
ISBN10:
Cover type: Hardback
Edition/Copyright: 6TH 06
Publisher:
Brooks/Cole Publishing Co.
Published: 2006
International: No
List price: $212.00
Summary
CHEMISTRY AND CHEMICAL REACTIVITY has been revised to help students get to a higher level of understanding of General Chemistry-concepts. This revision includes focuses on goals, connections, and complete integration with the text.
Other Editions for Chemistry and Chemical Reactivity - Text Only
Chemistry and Chemical Reactivity - Text Only - 6TH 06 edition
ISBN13: -
John C. Kotz and Paul M. Treichel

ISBN13: -
ISBN10:
Cover type: Hardback
Edition/Copyright: 6TH 06
Publisher: Brooks/Cole Publishing Co.

Published: 2006
International: No

List price: $212.00
$

159.00
Save $53.00 (25%)
Other Editions for Chemistry and Chemical Reactivity - Text Only