Business Associations : 10 Statutes and Rules

-

10

edition
ISBN13: 978-1599418353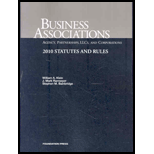 ISBN13:
978-1599418353
ISBN10: 1599418355 Edition: 10
Copyright: 2010
Publisher:
West Publishing Co. (Law Books)
Published: 2010
International: No
Summary
This statutory supplement includes statutes and rules relevant to all business entities. It is suitable for use with all textbooks and casebooks for such courses. It is includes all updates to the statutes and rules.
Business Associations : 10 Statutes and Rules - 10 edition
ISBN13: 978-1599418353

ISBN10: 1599418355 Edition: 10
Copyright: 2010
Publisher: West Publishing Co. (Law Books)
Published: 2010
International: No