Ship-Ship-Hooray! FREE 2-Day Air* on $25+
Details >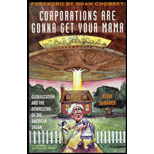 ISBN13:
978-1567511123
ISBN10: 1567511120
Cover type: Paperback
Edition: 96
Copyright: 1996
Publisher:
Common Courage Press
Published: 1996
International: No
List price: $16.95
Summary
Globalization and the downsizing of the American dream. Foreward by Noam Chomsky
Author Bio
Danaher, Kevin :
Co-founder of Global Exchange in San Francisco. Editor of 50 Years is Enough: The Case Against the World Bank and the International Monetary Fund.


Corporations are Gonna Get Your Mama - 96 edition
ISBN13: 978-1567511123
Kevin Danaher and Noam Chomsky

ISBN13: 978-1567511123
ISBN10: 1567511120

Cover type: Paperback
Edition: 96
Copyright: 1996
Publisher: Common Courage Press
Published: 1996
International: No