Daily Fit. and Nutr. Jour. to Accompany Fahey : Fit and Well

-

07

edition
ISBN13: 978-0073029887
by McGraw Hill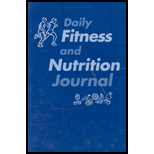 ISBN13:
978-0073029887
ISBN10: 0073029882 Edition: 07
Copyright: 2007
Publisher:
McGraw-Hill Publishing Company
Published: 2007
International: No
Summary
This logbook helps students track their diet and exercise programs. It serves as a diary to help students monitor their behaviors. It can be packaged with any McGraw-Hill textbook for a small additional fee. It comes free with Fit and Well by Fahey et al.
Daily Fit. and Nutr. Jour. to Accompany Fahey : Fit and Well - 07 edition
ISBN13: 978-0073029887

ISBN10: 0073029882 Edition: 07
Copyright: 2007
Publisher: McGraw-Hill Publishing Company
Published: 2007
International: No