Discovering the Essential Universe

-

5th

edition
ISBN13: 978-1429255196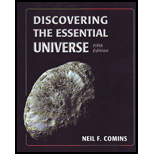 ISBN13:
978-1429255196
ISBN10: 1429255196
Cover type: Paperback
Edition: 5TH 13
Copyright: 2013
Publisher:
W.H. Freeman
Published: 2013
International: No
List price: $112.00
Summary
Freeman's briefest, least expensive introductory astronomy text.
Disovering the Universe, Fifth Edition is one of the briefest texts available for the introductory astronomy course, while still providing the wide range of factual topics that are the hallmark of the text and are consistent with most course needs. Disovering the Universe provides up-to-date explanations of core concepts in a flexible and student-friendly text, supported by an impressive collection of multimedia resources developed by astronomy education researchers. It is also up to date, reflecting how our knowledge about the universe is expanding at a phenomenal rate.
Preface 1 Discovering the Night Sky 2 Gravitation and the Motion of the Planets 3 Light and Telescopes 4 Formation of the Solar System and Other Planetary Systems 5 The Terrestrial Planets and Their Moons 6 The Outer Planets and Their Moons 7 Dwarf Planets and Small Solar System Bodies 8 The Sun: Our Extraordinary Ordinary Star 9 Characterizing Stars 10 The Lives of Stars 11 The Deaths and Remnants of Stars 12 The Galaxies 13 Cosmology 14 Astrobiology Appendices Glossary Answers to Margin Questions and Computational Questions Index
Other Editions for Discovering the Essential Universe
Discovering the Essential Universe - 5TH 13 edition
ISBN13: 978-1429255196

ISBN10: 1429255196

Cover type: Paperback
Edition: 5TH 13
Copyright: 2013
Publisher: W.H. Freeman
Published: 2013
International: No

Table of Contents
Preface 1 Discovering the Night Sky 2 Gravitation and the Motion of the Planets 3 Light and Telescopes 4 Formation of the Solar System and Other Planetary Systems 5 The Terrestrial Planets and Their Moons 6 The Outer Planets and Their Moons 7 Dwarf Planets and Small Solar System Bodies 8 The Sun: Our Extraordinary Ordinary Star 9 Characterizing Stars 10 The Lives of Stars 11 The Deaths and Remnants of Stars 12 The Galaxies 13 Cosmology 14 Astrobiology Appendices Glossary Answers to Margin Questions and Computational Questions Index