Educational and Psychological Research

-

3rd

edition
ISBN13: 978-1884585456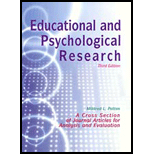 ISBN13:
978-1884585456
ISBN10: 1884585450
Cover type: Paperback
Edition: 3RD 02
Copyright: 2002
Publisher:
Pyrczak Publishing
Published: 2002
International: No
List price: $34.50
Summary
The 34 research articles in this collection deal with broad issues in education and psychology. Discussion of these articles in class make research methods come alive.
Qualitative Research
1.
Perceived Messages from Schools Regarding Adolescent Tobacco Use
Descriptors: Focus groups of students
Communication Education
2.
Cooperative Learning: Listening to How Children Work at School
Descriptors: Ethnographic case study
The Journal of Educational Research
3.
Psychological Parameters of Students' Social and Work Avoidance Goals: A Qualitative Investigation
Descriptors: Interviews and observations
Journal of Educational Psychology
4.
Mother-Daughter Communication About Sex Among Urban African American and Latino Families
Descriptors: Separate focus groups of mothers and daughters
Journal of Adolescent Research
Combined Qualitative/Quantitative Research
5.
The Interconnection of Childhood Poverty and Homelessness: Negative Impact/Points of Access
Descriptors: Interviews and standardized scales
Families in Society: The Journal of Contemporary Human Services
6.
Passionately Committed Psychotherapists: A Qualitative Study of Their Experiences
Descriptors: Interviews and self-report inventories
Professional Psychology: Research and Practice
7.
Parental Involvement During the Transition to High School
Descriptors: Quantitative data and case studies
Journal of Adolescent Research
Content/Documentary Analysis
8.
Gender Stereotyping and Intended Audience Age: An Analysis of Children's Educational/Informational TV Programming
Descriptors: Coding of of TV programs
Communication Research Reports
9.
Poverty As We Know It: Media Portrayals of the Poor
Descriptors: Comparison of of magazines with Census Bureau data
Public Opinion Quarterly
10.
Ethnic Representation in a Sample of the Literature of Applied Psychology
Descriptors: Comparison of ethnicity in 14 journals with Census Bureau data
Journal of Consulting and Clinical Psychology
Survey Research
11.
I'm Lonely and Apprehensive: The Presentation of Stigmatizing Information in Personal Ads
Descriptors: Mailed questionnaires
Communication Research Reports
12.
Young Children's Perceptions of Time Out
Descriptors: Observations and interviews
Journal of Research in Childhood Education
13.
Black and White Girls' Racial Preferences in Media and Peer Choices and the Role of Socialization for Black Girls
Descriptors: Personal interviews
Journal of Family Psychology
14.
Most Working Women Deny Gender Discrimination in Their Pay
Descriptors: National telephone poll
The Gallup Poll Monthly
True Experimental Research
15.
The Feasibility of a Web-Based Surveillance System to Collect Health Risk Behavior Data from College Students
Descriptors: Random assignment to treatments
Health Education & Behavior
16.
Drinking Glucose Improves Listening Span in Students Who Miss Breakfast
Descriptors: Random assignment to treatments
Educational Research
17.
The San Diego Navy Experiment: An Assessment of Interventions for Men Who Assault Their Wives
Descriptors: Random Assignment to treatments
Journal of Consulting and Clinical Psychology
Quasi-Experimental Research
18.
Evaluation of a Brief Intervention for Increasing Seat Belt Use on a College Campus
Descriptors: Baseline, intervention, and follow-up
Behavior Modification
19.
Comparison of Health Promotion and Deterrent Prompts in Increasing Use of Stairs Over Escalators
Descriptors: Comparison of two interventions
Perceptual and Motor Skills
20.
Influence of Social Context on Reported Attitudes of Nondisabled Students Toward Students with Disabilities
Descriptors: Comparison of four interventions
Rehabilitation Counseling Newsletter
Pre-Experimental Research
21.
Preliminary Evaluation of an Abstinence-Based Program for 7th-Grade Students from a Small Rural School District
Descriptors: Pretest-posttest design
Psychological Reports
22.
The Effectiveness of a Sexuality Education Newsletter in Influencing Teenagers' Knowledge and Attitudes About Sexual Involvement and Drug Use
Descriptors: Pretest-posttest design
Journal of Adolescent Research
Causal-Comparative Research
23.
Measurement of Nonverbal Receptive Abilities in Medical Students
Educational and Psychological Research - 3RD 02 edition
ISBN13: 978-1884585456

ISBN10: 1884585450
Cover type: Paperback
Edition: 3RD 02
Copyright: 2002
Publisher: Pyrczak Publishing
Published: 2002
International: No

Summary
The 34 research articles in this collection deal with broad issues in education and psychology. Discussion of these articles in class make research methods come alive.
Table of Contents
Qualitative Research
1.
Perceived Messages from Schools Regarding Adolescent Tobacco Use
Descriptors: Focus groups of students
Communication Education
2.
Cooperative Learning: Listening to How Children Work at School
Descriptors: Ethnographic case study
The Journal of Educational Research
3.
Psychological Parameters of Students' Social and Work Avoidance Goals: A Qualitative Investigation
Descriptors: Interviews and observations
Journal of Educational Psychology
4.
Mother-Daughter Communication About Sex Among Urban African American and Latino Families
Descriptors: Separate focus groups of mothers and daughters
Journal of Adolescent Research
Combined Qualitative/Quantitative Research
5.
The Interconnection of Childhood Poverty and Homelessness: Negative Impact/Points of Access
Descriptors: Interviews and standardized scales
Families in Society: The Journal of Contemporary Human Services
6.
Passionately Committed Psychotherapists: A Qualitative Study of Their Experiences
Descriptors: Interviews and self-report inventories
Professional Psychology: Research and Practice
7.
Parental Involvement During the Transition to High School
Descriptors: Quantitative data and case studies
Journal of Adolescent Research
Content/Documentary Analysis
8.
Gender Stereotyping and Intended Audience Age: An Analysis of Children's Educational/Informational TV Programming
Descriptors: Coding of of TV programs
Communication Research Reports
9.
Poverty As We Know It: Media Portrayals of the Poor
Descriptors: Comparison of of magazines with Census Bureau data
Public Opinion Quarterly
10.
Ethnic Representation in a Sample of the Literature of Applied Psychology
Descriptors: Comparison of ethnicity in 14 journals with Census Bureau data
Journal of Consulting and Clinical Psychology
Survey Research
11.
I'm Lonely and Apprehensive: The Presentation of Stigmatizing Information in Personal Ads
Descriptors: Mailed questionnaires
Communication Research Reports
12.
Young Children's Perceptions of Time Out
Descriptors: Observations and interviews
Journal of Research in Childhood Education
13.
Black and White Girls' Racial Preferences in Media and Peer Choices and the Role of Socialization for Black Girls
Descriptors: Personal interviews
Journal of Family Psychology
14.
Most Working Women Deny Gender Discrimination in Their Pay
Descriptors: National telephone poll
The Gallup Poll Monthly
True Experimental Research
15.
The Feasibility of a Web-Based Surveillance System to Collect Health Risk Behavior Data from College Students
Descriptors: Random assignment to treatments
Health Education & Behavior
16.
Drinking Glucose Improves Listening Span in Students Who Miss Breakfast
Descriptors: Random assignment to treatments
Educational Research
17.
The San Diego Navy Experiment: An Assessment of Interventions for Men Who Assault Their Wives
Descriptors: Random Assignment to treatments
Journal of Consulting and Clinical Psychology
Quasi-Experimental Research
18.
Evaluation of a Brief Intervention for Increasing Seat Belt Use on a College Campus
Descriptors: Baseline, intervention, and follow-up
Behavior Modification
19.
Comparison of Health Promotion and Deterrent Prompts in Increasing Use of Stairs Over Escalators
Descriptors: Comparison of two interventions
Perceptual and Motor Skills
20.
Influence of Social Context on Reported Attitudes of Nondisabled Students Toward Students with Disabilities
Descriptors: Comparison of four interventions
Rehabilitation Counseling Newsletter
Pre-Experimental Research
21.
Preliminary Evaluation of an Abstinence-Based Program for 7th-Grade Students from a Small Rural School District
Descriptors: Pretest-posttest design
Psychological Reports
22.
The Effectiveness of a Sexuality Education Newsletter in Influencing Teenagers' Knowledge and Attitudes About Sexual Involvement and Drug Use
Descriptors: Pretest-posttest design
Journal of Adolescent Research
Causal-Comparative Research
23.
Measurement of Nonverbal Receptive Abilities in Medical Students