Everything I'm Not Made Me Everything

-

09

edition
ISBN13: 978-1401925482
by Johnson jeff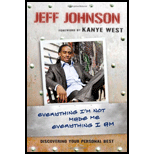 ISBN13:
978-1401925482
ISBN10: 1401925480 Edition: 09
Copyright: 2009
Publisher:
Hay House, Inc.
Published: 2009
International: No
Summary
Award-winning activist journalist and motivational speakerJeffJohnson dares the post-Civil Rights generation tostop making excuses, overcome personal challenges, and create lives filled with passion, meaning, and service in Everything I'm Not Made Me Everything I Am. This empowering strategic guide for manifesting and achieving your personal B.E.S.T. highlights Johnson's uniqueblend of political consciousness and street-smart inspiration.
A committed youth advocate, Johnson offers a lifeline to those who feel lost in a sea of choices, distractions, and self-imposed limits. Everything I'm Not Made Me Everything I Amoffers practical guidance for learning how to unplug from the programmed expectations of family and society in order to discover and fulfill your unique life's mission.
Everything I'm Not Made Me Everything - 09 edition
ISBN13: 978-1401925482

ISBN10: 1401925480 Edition: 09
Copyright: 2009
Publisher: Hay House, Inc.
Published: 2009
International: No