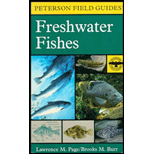 ISBN13:
978-0395910917
ISBN10: 0395910919 Edition: 91
Copyright: 1991
Publisher:
Houghton Mifflin Harcourt
Published: 1991
International: No
Summary
The first comprehensive field guide to freshwater fishes - covers all 790 species known in the United States and Canada. More than 700 illustrations, most in color, show identifying marks. Also includes 377 distribution maps and additional drawings of key details.
Other Editions for Field Guide to Freshwater Fishes : North American North of Mexico
Field Guide to Freshwater Fishes : North American North of Mexico - 91 edition
ISBN13: 978-0395910917
Lawrence M. Page and Brooks M. Burr

ISBN13: 978-0395910917
ISBN10: 0395910919 Edition: 91
Copyright: 1991
Publisher: Houghton Mifflin Harcourt
Published: 1991
International: No

Other Editions for Field Guide to Freshwater Fishes : North American North of Mexico