Ship-Ship-Hooray! FREE 2-Day Air* on $25+
Details >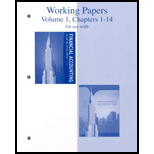 ISBN13:
978-0073268170
ISBN10: 0073268178
Edition: 14TH 08
Copyright: 2008
Publisher:
Richard D. Irwin, Inc.
Published: 2008
International: No
Summary
Working Papers provide students with formatted templates to aid them in doing homework assignments.
This resource is for use with both Williams' Financial Accounting 13e and Financial & Managerial Accounting 14e text.

Financial Accounting - Working Papers : Volume I - 14TH 08 edition
ISBN13: 978-0073268170
Jan Williams, Sue Haka, Mark S. Bettner and Joseph V. Carcello

ISBN13: 978-0073268170
ISBN10: 0073268178
Edition: 14TH 08
Copyright: 2008
Publisher: Richard D. Irwin, Inc.
Published: 2008
International: No