Hallelujah Junction

-

08

edition
ISBN13: 978-0374281151
by John Adams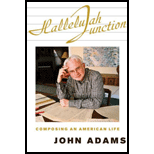 ISBN13:
978-0374281151
ISBN10: 0374281157
Edition: 08
Copyright: 2008
Publisher:
St. Martins Press, Inc.
Published: 2008
International: No
Summary
John Adams is one of the most respected and loved of contemporary composers, and ''he has won his eminence fair and square: he has aimed high, he has addressed life as it is lived now, and he has found a language that makes sense to a wide audience'' (Alex Ross,The New Yorker). Now, inHallelujah Junction, he incisively relates his life story, from his childhood to his early studies in classical composition amid the musical and social ferment of the 1960s, from his landmark minimalist innovations to his controversial ''docu-operas.'' Adams offers a no-holds-barred portrait of the rich musical scene of 1970s California, and of his contemporaries and colleagues, including John Cage, Steve Reich, and Philip Glass. He describes the process of writing, rehearsing, and performing his renowned works, as well as both the pleasures and the challenges of writing serious music in a country and a time largely preoccupied with pop culture.
Hallelujah Junctionis a thoughtful and original memoir that will appeal to both longtime Adams fans and newcomers to contemporary music. Not since Leonard Bernstein'sFindingshas an eminent composer so candidly and accessibly explored his life and work. This searching self-portrait offers not only a glimpse into the work and world of one of our leading artists, but also an intimate look at one of the most exciting chapters in contemporary culture.
Hallelujah Junction - 08 edition
ISBN13: 978-0374281151

ISBN10: 0374281157
Edition: 08
Copyright: 2008
Publisher: St. Martins Press, Inc.
Published: 2008
International: No