Human Chain: Poems

-

11

edition
ISBN13: 978-0374533007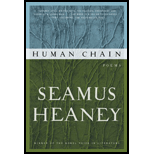 ISBN13:
978-0374533007
ISBN10: 0374533008
Cover type: Paperback
Edition: 11
Copyright: 2011
Publisher:
Farrar, Straus and Giroux, Inc.
Published: 2011
International: No
List price: $13.00
Summary
Seamus Heaney's new collection elicits continuities and solidarities-between husband and wife, child and parent, then and now-inside an intently remembered present: the stepping stones of the day, the weight and heft of what is passed from hand to hand, lifted and lowered.Human Chainalso broaches larger questions of transmission, of lifelines to the inherited past. There are newly minted versions of anonymous early Irish lyrics, poems that stand at the crossroads of oral and written, and other ''hermit songs'' that weigh equally in their balance the craft of scribe and the poet's early calling as scholar. A remarkable sequence entitled ''Route 110'' plots the descent into the underworld in theAeneidagainst single moments in the arc of a life, from a 1950s childhood to the birth of a first grandchild. Other poems display a Virgilianpietasfor the dead-friends, neighbors, family-that is yet wholly and movingly vernacular.

Human Chainalso includes a poetic ''herbal'' adapted from the Breton poet Eugene Guillevic-lyrics as delicate as ferns, which puzzle briefly over the world of things, and landscapes that exclude human speech while affirming the interconnectedness of phenomena, as of a self-sufficiency in which we too are included.
Human Chain: Poems - 11 edition
ISBN13: 978-0374533007

ISBN10: 0374533008

Cover type: Paperback
Edition: 11
Copyright: 2011
Publisher: Farrar, Straus and Giroux, Inc.
Published: 2011
International: No