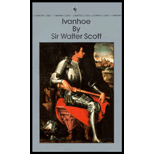 ISBN13:
978-0553213263
ISBN10: 0553213261
Cover type: Paperback
Edition/Copyright: 88
Publisher:
Bantam Books, Inc.
Published: 1988
International: No
List price: $5.95
Summary
Ivanhoe brings alive 12th-century England and its people: Ivanhoe, the disinherited knight, his fair lady, Rowena, Richard the Lion Hearted and Robin Hood. Through them the past of England comes alive--a past of crusades, chivalry and courtly love.
Ivanhoe - 88 edition
ISBN13: 978-0553213263

ISBN10: 0553213261
Cover type: Paperback
Edition/Copyright: 88
Publisher: Bantam Books, Inc.

Published: 1988
International: No