JUAN, JULIA Y JERICO

-

03

edition
ISBN13: 978-8420447568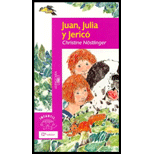 ISBN13:
978-8420447568
ISBN10: 8420447560 Edition: 03
Copyright: 2003
Publisher:
Biblioteca De Bolsillo
Published: 2003
International: No
Summary
Juan is a young boy who is very short for his age, has crooked teeth, and his left foot is larger than his right. All these things create many problems for him. Without Julia, his situation would be terrible. But with her friendship, everything is all right.
JUAN, JULIA Y JERICO - 03 edition
ISBN13: 978-8420447568

ISBN10: 8420447560 Edition: 03
Copyright: 2003
Publisher: Biblioteca De Bolsillo
Published: 2003
International: No