Long Voyage Home

-

09

edition
ISBN13: 978-1419170645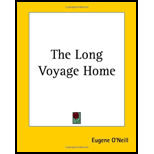 ISBN13:
978-1419170645
ISBN10: 1419170643
Cover type: Paperback
Edition: 09
Copyright: 2009
Publisher:
Kessinger Publishing Co.
Published: 2009
International: No
List price: $15.95
Summary
NICK--Not fur this ship, ole buck. The capt'n an' mate are bloody slave-drivers, an' they're bound down round the 'Orn. They 'arf starved the 'ands on the larst trip 'ere, an' no one'll dare ship on 'er. [After a pause.} I promised the capt'n faithful I'd get 'im one, and ter-night.
Long Voyage Home - 09 edition
ISBN13: 978-1419170645

ISBN10: 1419170643

Cover type: Paperback
Edition: 09
Copyright: 2009
Publisher: Kessinger Publishing Co.
Published: 2009
International: No