MATHLETICS: A SCIENTIST EXPLAINS 100 A

-

12

edition
ISBN13: 978-0393063417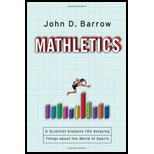 ISBN13:
978-0393063417
ISBN10: 0393063410 Edition: 12
Copyright: 2012
Publisher:
Norton, W. W. & Company, Inc.
Published: 2012
International: No
Summary
Drawing on vivid, real-life examples, Barrow shows how math and physics can give surprising, often counterintuitive insights into the world of sports. With lucid explanations and a healthy dose of humor, ''Mathletics'' is perfect for sports enthusiasts and math lovers alike.
MATHLETICS: A SCIENTIST EXPLAINS 100 A - 12 edition
ISBN13: 978-0393063417

ISBN10: 0393063410 Edition: 12
Copyright: 2012
Publisher: Norton, W. W. & Company, Inc.
Published: 2012
International: No