One Nation Under Gods: A History of the Mormon Church

-

03

edition
ISBN13: 978-1568582832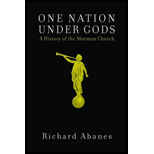 ISBN13:
978-1568582832
ISBN10: 1568582838 Edition: 03
Copyright: 2003
Publisher:
Four Walls Eight Windows Publishing Co.
Published: 2003
International: No
Summary
Founded in 1830, the Church of Jesus Christ of Latter-day Saints was initially perceived as a movement of polygamous, radical zealots; now in parts of the U.S. it has become synonymous with the establishment. In reevaluating its preoccupation with issues of church and state, Abanes uncovers the political agenda at Mormonism's core: the transformation of the world into a theocratic kingdom under Mormon authority. This illustrated edition has been revised and offers a new postscript by the author.
One Nation Under Gods: A History of the Mormon Church - 03 edition
ISBN13: 978-1568582832

ISBN10: 1568582838 Edition: 03
Copyright: 2003
Publisher: Four Walls Eight Windows Publishing Co.
Published: 2003
International: No