Political Consultants and Campaigns

-

12

edition
ISBN13: 978-0813344881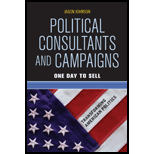 ISBN13:
978-0813344881
ISBN10: 0813344883
Cover type: Paperback
Edition: 12
Copyright: 2012
Publisher:
Westview Press, Inc.
Published: 2012
International: No
List price: $40.00
Summary
Political consultants often move effortlessly from campaigners to policymakers, but little is known about consultants' attitudes, beliefs, and strategies. Do they create campaign messages based on campaign context, the candidate's traits, or both? Do consultants see a connection between how candidates campaign and how they govern?
This book provides a clearer understanding of modern-day political campaigns by revealing what is on the minds of the people who run them. With original data from consultants, campaign managers, and professional campaign schools, author Jason Johnson examines consultant behavior on message formation, policy positioning, candidate recruitment, and negative advertising and compares these practices to existing political science theory. This groundbreaking research makesPolitical Consultants and Campaigns: One Day to Sella must-have resource for all students of American politics, campaign managers, or anyone interested in how political campaigns in America are run.
Political Consultants and Campaigns - 12 edition
ISBN13: 978-0813344881

ISBN10: 0813344883

Cover type: Paperback
Edition: 12
Copyright: 2012
Publisher: Westview Press, Inc.
Published: 2012
International: No