START: An Introduction to the Sound and Writing Systems of Russian

-

2nd

edition
ISBN13: 978-1585101320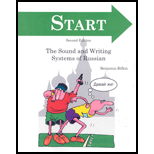 ISBN13:
978-1585101320
ISBN10: 158510132X
Edition: 2ND 05
Copyright: 2005
Publisher:
Focus Publishing
Published: 2005
International: No
Summary
The START program provides an introduction to the sound and writing systems of Russian for English-speaking students. A CD-ROM is available which provides MP3 audio files and QuickTime movie files also on the CD-ROM show students how to write the letters of the Russian alphabet for both PC and Macintosh. The START program is designed to be used with any first year Russian textbook.
The workbook carefully explains the fundamental concepts of Russian pronunciation with reference to English sounds and words: hard and soft consonants, voiced and voiceless consonants, regressive assimilation, and the reduction of unstressed vowels
Self-quizzes and dictations are included at the end of every chapter so instructors can check students' progress.
START: An Introduction to the Sound and Writing Systems of Russian - 2ND 05 edition
ISBN13: 978-1585101320

ISBN10: 158510132X
Edition: 2ND 05
Copyright: 2005
Publisher: Focus Publishing
Published: 2005
International: No