Waking Tiger-Healing Trauma : The Innate Capacity to Transform Overwhelming Experiences

-

97

edition
ISBN13: 978-1556432330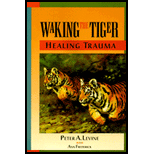 ISBN13:
978-1556432330
ISBN10: 155643233X Edition: 97
Copyright: 1997
Publisher:
North Atlantic Books & Frog, Ltd.
Published: 1997
International: No
Summary
Grounded in biological, ethological, and neurological scholarship, this book introduces a radical and innovative method of dealing with the psychological, somatic, and psychosomatic aspects of trauma. Levine demonstrates that confusion between an..
Waking Tiger-Healing Trauma : The Innate Capacity to Transform Overwhelming Experiences - 97 edition
ISBN13: 978-1556432330

ISBN10: 155643233X Edition: 97
Copyright: 1997
Publisher: North Atlantic Books & Frog, Ltd.
Published: 1997
International: No