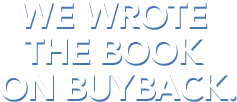 Selling your textbooks to us, no matter where you got them, is easy. You get the most cash back, plus free return shipping. Simple, right?




FREE Return Shipping When you sell textbooks to us, we'll set you up with a free shipping label.

PayPal™ or Cash We can deposit right into your PayPal account or send you a check - your choice!

30-Day Offers Lock in a textbook buyback cash offer that's good for 30 days.


Our textbook buyback is as easy as 1-2-3:

Lock in your quote
Good for 30 days

Get a free shipping label
Print right from your desktop

Collect your cash!
Via PayPal or check